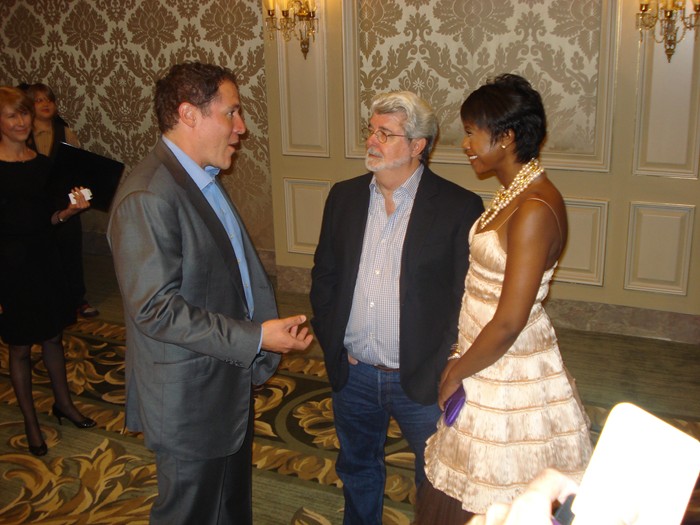 (Jon Favreau, George Lucas and Mellody Hobson — Photo courtesy Jimmy Mac.)
This weekend filmmaker George Lucas was honored in Chicago by The Gene Siskel Film Center with a gala event which included an interview by Iron Man director Jon Favreau.
Media were also in attendance including our friends at Force-Cast who covered the event and snagged an interview with The Maker himself.
Jon Favreau conducted an hour-long discussion with George that mostly focused on his technological and artistic contributions to cinema, including his advancements in digital film making, creation of his company, and his hobby of architecture. During the interview, Lucas claimed rules do not work and he stressed the need to think outside the box. George said he developed new film making technologies was because he was lazy and wanted the easiest way to concentrate his attention on the fun aspects of movie making. Lucas also informed attendees that he is working on literally 40 screenplays for television including the development of a second Star Wars animated series. The captive audience hung on every word and the evening ended with a standing ovation for the revolutionary director.
Check out their coverage here:
Tags: Awards, Celebrities, George Lucas